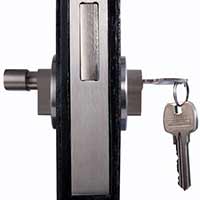 We welcome you to Hemet Secure Locksmith, where maximum customer service is always key!
Here at Hemet Secure Locksmith, our staff mobile residential locksmith experts invite you to come discover our large selection of fine-quality residential lock and key solutions, including:
residential emergency lockout help, 24/7
opening your door if you are ever locked out
household rekeying
extraction of stuck & broken keys
lock repairs
home safes for your important papers, valuables, & collectibles
install an intercom system
fence, pool, & garage locks
peepholes
bump-proof lock upgrades
change your household locks inside & out
…& much more!
What if you have been looking for a residential locksmith service that you do not see on our list here? All you have to do is bring all your questions to us. The fact is, we are sure we can handle that, too. You're invited to make an appointment anytime at your convenience for a FREE consultation. We are more than happy to offer our expertise and sound advice, plus terrific-quality locksmith hardware, offering every possible residential locksmith service you will ever need. It doesn't have to be an emergency. We will go over all your concerns regarding how best to enhance the security around the premises of your property, how to fortify your exterior doors and windows, even your interior locks and keys, and truly anything else you can possibly imagine. Secure is our middle name, after all, so you know you can count on us to always live up to it!
CALL US ANYTIME DAY OR NIGHT! (951) 729-4250
The professional mobile residential locksmiths here on staff at Hemet Secure Locksmith will get there to assist you right away, any place you may be living in Hemet, California, 24 hours a day, 7 days a week!
Any way you slice it, Hemet Secure Locksmith offers stellar-quality residential locksmith services for your every need, at very affordable prices. Our mobile residential locksmith specialists, every one of us on staff local to Hemet, CA, are also fully licensed, officially certified, properly insured, thoroughly background-checked, and appropriately bonded. We can surely manage practically anything when it comes to solving issues regarding residential keys and locks.
What if you suddenly realize that you are locked out of your place of residence? Hemet Secure Locksmith's staff mobile residential technicians definitely understand your frustration, particularly after dark. We know how terribly difficult it is to wonder if the help you need will ever arrive at all, and to ponder how much of your precious time you will end up wasting. It may be awfully tempting to entertain the notion of breaking a window to get back into your own home! But should you actually risk being mistaken for a cat burglar? Of course not. What a rotten idea. Please, do not even think about it. Instead, just pick up your phone and dial!
CALL US NOW! (951) 729-4250 - We promise, we will be there lickety-split!