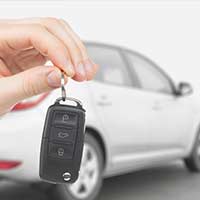 To suddenly discover that you have been locked out is definitely no picnic. It is certainly such bad news, particularly if it occurs after the sun sets. If it's the middle of the night, when just about everything is closed, it is even worse. But you ought not to let any of this get you down. Please, you really should not have to waste your time entertaining the thought of breaking a window, and actually going through with making the very bad decision of taking the risk of being mistaken for a burglar! Don't even think about it! Instead, all you have to do is pick up your phone and dial - because the good news is, no matter what time it is, day or night, Hemet Secure Locksmith is ready to help, always on standby, right this second, to quickly end your troubles!
If you ever do find yourself stuck in a locksmith emergency, DON'T FRET.
JUST CALL US NOW at (951) 729-4250 and we will be there in no time!
A locksmith emergency typically arises because of the following:
you have been locked out
you do not recall where you left your keys
you have forgotten or misplaced the combination to your safe or to your padlock
your keys could have been stolen
your key has broken off in the lock mechanism
Not only that, locks have also been known to fail due to:
faulty lock construction
vandalism & break-ins
freezing temperatures
safe or padlock malfunction
very worn locks & keys
Any way you look at your situation, a locksmith emergency is always aggravating, no matter whose fault it is. But the dependable expert staff mobile locksmith emergency professionals of Hemet Secure Locksmith are highly trained, always at the ready to come to your rescue - and that means 24 hours a day, 7 days a week!
All our mobile emergency locksmith specialists on staff are here to keep you fully safe and secure. Indeed, Secure is obviously our middle name! Each of us is local to Hemet, California, and also appropriately insured, properly certified, officially bonded, suitably licensed, and thoroughly background-checked. The bottom line is, for sure, you know you can completely rely on us to get you out of the tight spot you have landed yourself in, no matter what your emergency has turned out to be.
Undoubtedly, Hemet Secure Locksmith will be there for you, arriving in only minutes to provide the perfect locksmith solution for your circumstances.
When you must locate a premium locksmith in Hemet, California, Hemet Secure Locksmith will provide you with the quickest and most affordably priced prime-quality emergency locksmith solutions you will find any place in town.
Count on us! Hemet Secure Locksmith is soon coming to the rescue! After your call, we will get there in minutes, bringing exactly the right locksmith solution for you!
CALL US ANYTIME DAY OR NIGHT! (951) 729-4250